KAREN P.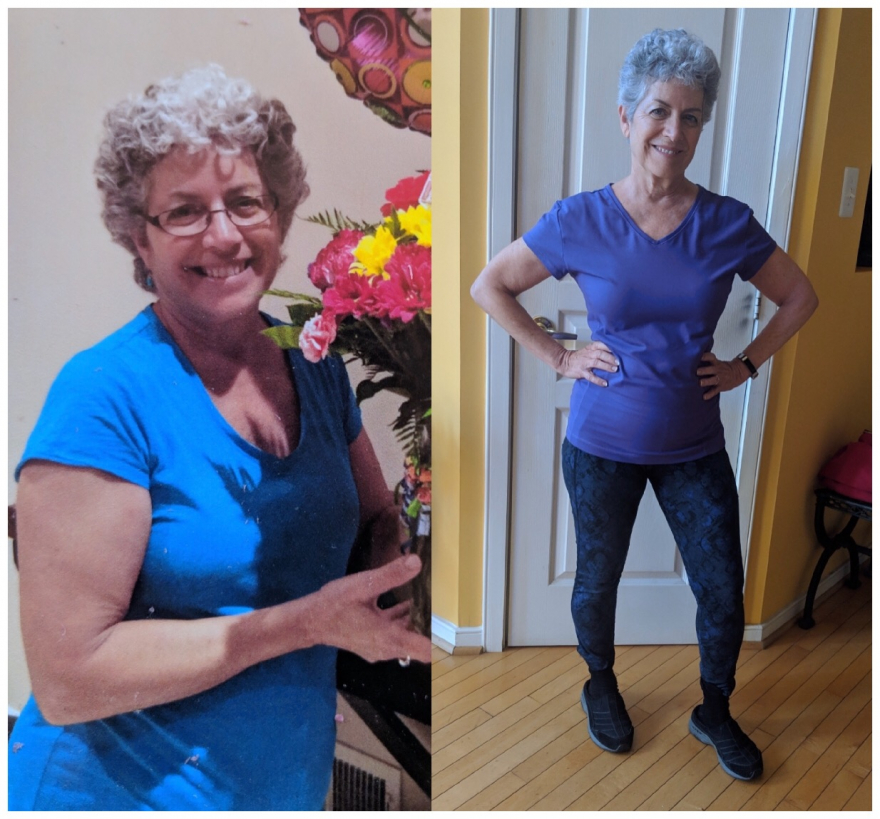 Karen P. is an excellent example of a woman who had been trying, repeatedly, to get to a healthy weight but until we worked together to help her get out of the diet mode and into building habits and structures that worked for her in her life, she wasn't able to make it happen. Today she is happily enjoying retired life with her husband and no longer feeling like a frumpy grandma but rather like a sassy lady who is fit and capable of enjoying her life....because she loves the way she looks and feels! She enjoys having people tell her how great she looks!
---
MARIE Z.
I have known Millie for over 15 years. During that time, she has worked with me very hard and consistently, and, in such a loving and devoted way ... in order to help keep me motivated, so that I can be the best that I can possibly be, both physically and mentally.
I have never met a Leader and personal trainer, like Millie, who has been so devoted in helping others, such as me, so that we can reach and maintain our goals. Millie truly puts her heart and soul into being there for her clients and friends. Millie's words of encouragement, along with her professional coaching and training abilities, are for me, such a blessing.
Millie has helped guide me over many bumps in the road. She is always there to listen and work with me, and help me get back on track whenever I have faltered ... so that I can continue onward, with my journey, toward a much healthier, and thus ... happier and fulfilled lifestyle.
In my eyes, not only do I consider Millie to be tops in her field's of weight loss management and fitness training ... but, I also consider her to be one of my earth angels, for sure.
I thank you Millie, from the bottom of my heart, for all that you do, to help me and so many others, reach and maintain their goals, so that we can enjoy a happier and healthier lifestyle. You are truly the best!
Marie
---
LISA G.
Picking up the phone and giving you a call was the best thing I have done for myself in a long while. Thanks for the feedback on yesterday's weigh-in. I am thrilled with my weight loss and having to have taken all my pants in by 2 and a 1/2 inches. I clearly was eating very differently before meeting you. Your coaching has made these life changes simple and easy and I do not feel like I am dieting at all. I eat well, just lots of good things. Partnering with Louise has been great. It is more motivating knowing there is someone waiting on the treadmill! I look forward to continuing to work together and targeting the 150 mark!
You're the best!
Lisa
---
NED C.
Just wanted to say how much I am enjoying our sessions. I think they are helping already, and I am convinced your program/philosophy is the way for me to get back into shape and, to keep exercising on a continued bases -- without hurting myself in the process! I thank you for being so professionally competent. And for being so darn nice. I feel comfortable working with you; that hasn't happened before. Consider that a major compliment.
All the best,
Ned
---
KATHY S.
We were so happy to see you tonight. Thanks for coming by. We will miss you so much. You were the one who got us back into shape after years of slacking off. We both use your weight training and yoga techniques which now have become a part of our lives. God has given you a special gift in your ability to connect with others to promote health and fitness. We have learned so much from you. If you get a desire to see Niagara Falls, perhaps on a special anniversary, please let us know. We have room for you in our home and our hearts.
Blessings,
Greg and Kathy